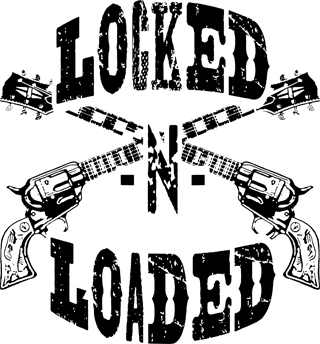 Mark & Melyssa – Rocklin, CA
Justin & Shawnna – Folsom, CA
We had a fantastic Harvest Hoedown last night at Four Seasons El Dorado Hills and Locked-N-Loaded was a huge hit. Lots of dancing..and many stayed just to listen. We hope to have them back!!

---

Sandy C. - Four Seasons - El Dorado Hills, CA

Locked-N-Loaded was the best choice I could have possibly made for our wedding music. The guys provided both my ceremony and reception music. My guests could not stop talking about what great musicians they were and many said it was like, "being at a concert!" And yet, it never felt like the event was about anything other than my husband an I.

---

Lauren B. - Bride - Carmel, CA

This band is the best! We had a going away party and wanted a country western band? These guys were so great our guests kept wanting them to just keep playing... they made a our party a complete success.

---

I loved them! Would've loved them to go on and on. I continually got compliments and they were the hit of the party! They sound incredible and are a pleasure to work with!

---

Kodi K. - Bride - Hollywood, CA

Locked-N-Loaded was awesome! Our little town had nothing but great things to say about them. They really know how to get a crowd going, big or small. I highly recommend them for any occasion! Can't wait for them to come back to Cloverdale and perform again!

---

Mahkayla R. - Cloverdale Fire Dept. - Cloverdale, CA

From beginning to end, working with Mark and his band mates was a fantastic experience. A really fantastic group of talented musicians and vocalists! They played old and new music - relevant and fun for our entire group. Many, many thanks to Mark and your talented group. Book Locked-N-Loaded today!

---

Jennifer J. - Event Planner - Napa, CA

Locked-N-Loaded played for my husbands 50th birthday party and they made the party so much fun. The music selection was awesome and all our guest were having so much fun dancing and just listening to them play!! One of the band members even got out there and lined danced with the kids.

---

Melyssa C. - Roseville, CA

Great band. I would hire them again, no question. I had requested a specific song and they learned it for the event! Great reviews from our guests. There were special requests for songs and they accommodated. Thank you Locked-N-Loaded for helping make our event a success!

---

Nancy B. - Placerville, CA

Locked-N-Loaded was flawless. The music was wonderful and they kept everyone engaged and on the floor dancing. The guests had such good time, no one wanted to leave!

---

Erin H. - Bride - Santa Rosa, CA

Mark, Brandon and the rest of the guys were more than friendly and accommodating. They were professional through and through. They helped make sure everyone from the oldest to the youngest had a great time. They are very talented and they sound fantastic. I would definitely hire them again.

---

Jason S. - Taylorsville, CA

OMG just amazing. We hired Locked-N-Loaded for our wedding and they were fabulous. I had so many people telling me how amazing the band was, and even non-country music fans said how much fun they had. They made our wedding extra perfect. They kept the energy high and helped us close the party barn down till 2:00 am.

---

Stephanie S. - Bride - Valley Springs, CA

Locked-N-Loaded arrived at our venue on time. They were sweet and cuddly when they needed to be and a little raunchy and rockin' when the time was right. The sound mix on every song was great, due in part to their full-time sound guy wirelessly mixing the band from the audience perspective. We had 340 people at our fundraiser and I heard nothing but praise from everyone. Locked-N-Loaded was a major factor in the success of our fundraiser.

---

Thomas O. - Roseville, CA

Locked-N-Loaded was amazing! They were available when I needed them leading up to the event, they were kind and understanding to my preferences, and they were extremely professional. Not to mention, they sounded amazing and we received a million compliments on how awesome the band was! If you need a good country band for a party, Locked-N-Loaded is the band to hire!

---

Natalie B. - Bride - Saint Helena, CA
ONLINE REVIEWS
All of the following reviews and many more can be found online at sites such as Gigmasters.com, TheKnot.com, Weddings.com, GigSalad, Yelp and many are taken right off of our social media accounts such as Facebook, Instagram and Twitter.  It is worth noting that from all of our clients to date, we have never received anything less than a perfect rating of a full 5 stars in all 5 categories on our Gigmasters profile.
"Locked-N-Loaded were fantastic great music mix, great vocals, covers done like the original artist. Very professional, WE WILL DEFINITELY HAVE THEM BACK!"
John and Carla S., Dixon, CA
"Being from Texas, we really wanted a country band at our wedding, but finding a quality group in California was really challenging. My wife and I were really happy we found Locked-N-Loaded. They were very responsive and accommodating as we were planning, even down to our song selections. They're great musicians, matching the style and sound of a wide range of country artists. Our friends and family, from teenagers up to our grandparents, were on the dance floor for two hours straight and told us after how they enjoy the band. Highly recommend them."
Chris F., Lake Tahoe, CA
"Locked-N-Loaded was the best choice I could have possibly made for our wedding music. From the beginning of the process to the end, they worked closely with me and the venue to be sure the day went smoothly. They even accommodated two special song requests for the day. The guys provided both my ceremony and reception music. My guests could not stop talking about what great musicians they were and many said it was like, "being at a concert!" And yet, it never felt like the event was about anything other than my husband an I. I would highly recommend them to anyone having a wedding or other big event. Thanks Locked-N-Loaded!"
Lauren B., Carmel, CA
"We hired Locked-n-Loaded to perform at our wedding reception, and it was the highlight of the weekend. We had a multi-day outdoor wedding with multiple events planned in the same area. They showed up earlier than promised and managed to load in and perform sound check without disturbing any of our guests or events. The guys were friendly and gracious and involved the guests in their performance. We have had multiple guests tell us they were one of the best bands they had ever seen. Can not recommend them highly enough. They helped us throw a wonderful party that we will always remember. These guys are true professionals. 6/5 stars"
Stephen M., Coloma, CA
"Locked-N-Loaded was an amazing find, every song they played crowded the dance floor. They were so much fun that our group would like to hire them every year for our annual event and I'd like to hire them for my Husband's Birthday too, can't wait to hear them again!"
Kim L., Tiburon, CA
"Locked-N-Loaded is a hidden treasure. From a business standpoint, they are professional, well organized, and well worth the money to see or hire. From an entertainment standpoint, the band is AMAZING! They cover new and old tunes, and sound great! They get the crowd moving and having fun. Add them to your list of must-see bands, you won't be disappointed!"
Rachel Cameron Photography, Sacramento, CA
"One of the best concerts I have ever been to and to think I actually hired them! Will tell everyone I know in the business about these guys. Every song they played was so legit. The perfect band for a rodeo. The cowboys and cowgirls loved, them, I loved them!!"
Tiffany O., Auburn, CA
"I really appreciated what an amazing contribution the band made to our event and the success of our event."
Meredith M. (Wilton School District), Wilton, CA
"We have used several bay area bands in the past and took a chance to have them come down to San Francisco. They were one of the best bands we have ever used for our event. Was probably just lucky to have found them and I can highly recommend them to anyone having a large festival as this is a very professional group and we enjoyed their music and show just as much as their laid back and easy going personalities!!. A day the city will always remember!"
Cynthia M., San Francisco, CA (Event Planner)
"An incredible, professional show that all of our employees are still talking about. They handled every request and even sang the National Anthem for us. They brought a very professional sound company with full stage lighting and really made the show spectacular. We will use them again."
Bridget T (PG&E)., San Francisco, CA
"I love that you guys did that Jamey Johnson Song!!"
Wendy, Cheryl and Tim, Elk Grove, CA
"If there is a Locked and Loaded fan club, I'm in! Going to try and hire you for my birthday this year"
Lyle C., Sacramento, CA
"Awesome show, not too hard to look at either, lol"
Teena S., Rio Vista, CA
"Thank you for the pictures and the birthday song"
Suzie H., Fair Oaks, CA
"You definitely can do some George Strait"
John H., West Sacramento, CA
"I need to know where your playing because I want more. Thank you for a memorable evening."
Kathy K. (Intel), Folsom, CA
"FANtastic!"
Simone R., (Sac Music, Blog Author), Placerville, CA
"Good music and good wine!! Thank you"
Trevor, Cindy and the gang, Apple Hill, CA
"Amazing show!"
Amanda W., Folsom, CA
"WOW!, What a show!, these guys are the real deal and one of the best country cover bands in this State!"
Shasta H. (City of Roseville), Granite Bay, CA
"Yes, Yes,Yes! Tell me when and where and i'm there"
Rebecca H., Fair Oaks, CA
"Thank you for an awesome night, we hope to have you back next year"
Sara G., Carmichael, CA
"You guys are the real deal!"
Trevor and Jennifer, Antelope, CA
"Great show last night at Midnite Rodeo!!"
Desarae M., Davis, CA
"These guys should be in Nashville"
Robert L., Elk Grove, CA
"Great band!! Great Show!!  They got the crowd involved.  Looking forward to seeing them again"
John W., Vallejo, CA
"Great job in 107 degree heat! Everyone loved the music! We'd definitely hire you again"
Kristine R., Lodi, CA (Event Coordinator WPGA)
"This band is the best! We had a going away party and wanted a country western band? These guys were so great, they made a our party a complete success."
Lynn L, Danville, CA
"What can I say except our minds were blown at how good this band was and that they were here and performing for us!!"
Lacee S., Sebastapool, CA
"You guys were terrific and I am going to make sure we get you back next year!"
Rhonda P., Knightsen, CA
"Soooo much talent, you guys are the real deal"
Tara V., Fresno, CA
"Took me back to my childhood, used to love all of these songs. I actually went and bought a couple new CD's because of your show"
Melissa W., San Francisco, CA (Wedding Planner)
"Our benefit was a tremendous success because of your group.  We will make sure to ask you back next year and recommend you to EVERYONE!"
Juanita D., Fairfield, CA
"All of my favorite artists and songs in one tidy package!!!"
Sonya V., Albany, CA
Is a multi-award winning country cover band based out of California, playing nothing but the top, #1 country music hits from yesterday to today's chart toppers.